So sad but glad that NZQA is now taking this seriously. Hope this cheating culture does not infect NZ.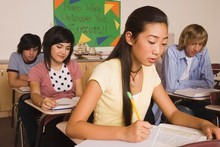 Schools for international students will face tougher English language tests in response to widespread cheating.
The New Zealand Qualifications Authority is examining several options, including forcing schools to use an independently supervised international exam instead of their own internal tests.
Deputy chief executive Tim Fowler said in the last year he had noticed an increase in multiple problems at some schools, including poor English levels and pass marks given for substandard work.
This had prompted NZQA to review its English language requirements to stop schools from taking students who were not up to scratch.
Mr Fowler said the exact changes had not been decided but once they were approved, all schools would be on notice.
"Under those new rules, any institution would have to meet them. If they don't they're in trouble."
He said 26 private training establishments were now under investigation for a range of suspected problems, such as poor academic performance, student complaints and fee payments missing from trust accounts.
For the rest of the report, go HERE